SCIA's Curriculum Overview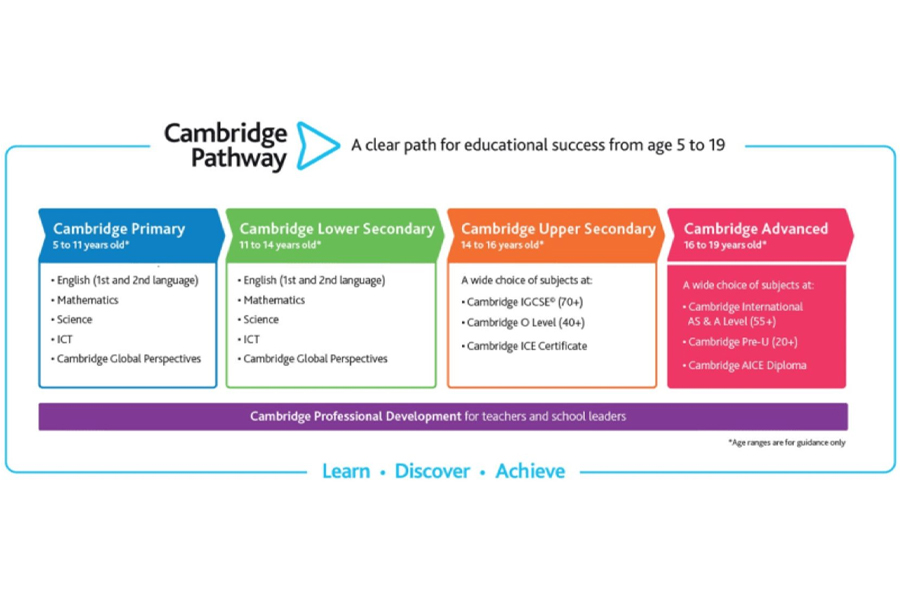 Overview
The Singapore (Cambodia) International Academy (SCIA) offers a unique K-12 curriculum that is strongly anchored in the Singapore national curriculum in the primary years, leading to the Cambridge International General Certificate of Secondary Education (IGCSE) in the secondary and Cambridge International AS & A levels in the post-secondary years.
The curriculum and educational programmes are structured around the following five essential components of holistic education – CAMPS:
Cognitive
Aesthetics
Moral
Physical
Social
Students are exposed to varied pedagogical approaches and learning activities that are adopted to support the overall goal of making the process of learning relevant and experiential.
The SCIA curriculum is guided by the following key principles:
Delivering a rigorous and broad-based, bilingual academic programme that cultivates a love for learning.
Nurturing global citizens equipped with intercultural awareness, respect and 21st century competencies.
Creating a healthy culture of Character Education and Leadership Development through Service Learning Projects and Talent Management Programmes.
Nurturing the Spirit of Entrepreneurship and Innovation in every child, with emphasis on resilience and creativity.
Throughout the course of their studies, students are monitored and evaluated on the quality and effectiveness of their learning through different modes of school-based assessments in the form of formative and summative assessments.
As a form of international assessment certification process, students in the primary years will sit for the Cambridge Primary Checkpoint and have the additional option of undergoing the Singapore International Primary School Examination (iPSLE) at the end of Grade 6. The iPSLE assessment is the international version of Singapore's Primary School Leaving Examination (PSLE), an examination offered to all students in Singapore schools at the end of Primary Education. At the end of Grade 10, students will sit for the IGCSE examination, the world's most popular international certification for students aged 14-16. (See Annexes A-C for Curriculum Information on Cambridge Checkpoint, iPSLE, IGCSE and Cambridge International AS & A levels).
Coupled with relevant pedagogical approaches and effective assessment modes, the curriculum is designed to be holistic and forward-looking, seeking to nurture students into well-balanced lifelong learners with a heart for humanity and a spirit of entrepreneurship, excelling in the academic arena and beyond.
Annex A
Cambridge Primary Checkpoint Information[1]
Cambridge Primary Checkpoint tests have been designed to assess learners at the end of Primary 6. The subjects are English Language, Mathematics and Science. Primary Checkpoint gives valuable feedback on learners' strengths and weaknesses before they progress to the next stage of their education.
The tests are marked in Cambridge and provide schools with an external international benchmark for learner performance. Each learner receives a statement of achievement and a diagnostic feedback report, giving schools and parents detailed information.
Students sit for the Cambridge Primary Checkpoint tests in May. The tests cover all major areas of learning in the Cambridge Primary curriculum frameworks for English Language, Mathematics and Science.
Annex B
iPSLE Curriculum Information[2]
The Singapore International Primary School Examination (iPSLE) is the international version of Singapore's Primary School Leaving Examination (PSLE), an examination offered to all pupils at the end of Primary Education. The iPSLE was introduced with the aim of providing benchmarking for overseas schools which are interested to benchmark against Singapore's standard.
EXAMINATION ENTRY REQUIREMENTS
Currently, iPSLE is offered to schools outside Singapore. There is no restriction on the maximum age for pupils taking iPSLE.
EXAMINATION SUBJECTS
From 2018, the following subjects are available in the iPSLE: English Language, Mathematics, Science and Chinese Language. Pupils may sit a maximum of 4 subjects.
FORMAT OF EXAMINATION
The standards and testing requirements of iPSLE are similar to the Singapore PSLE.
RESULTS REPORTING
Examination results are usually released in November of the examination year.
Results will be reported in the form of subject grades:
A*, A, B, C, D, E
The overall performance of a pupil is reported in terms of an Aggregate Score. This aggregate score is derived from the T-scores (i.e. Transformed Scores) in all the subjects sat, which must include the three subjects – English Language, Mathematics and Science.
CERTIFICATION
Candidates who achieve a grade E or better for at least ONE subject will receive an iPSLE certificate awarded by the Singapore Examinations and Assessment Board (SEAB).
Annex C
IGCSE and Cambridge International AS & A levels Curriculum Information[3]
The Cambridge curriculum offers a variety of routes for learners with a wide range of abilities, including those whose first language is not English.
Cambridge offers a flexible and stimulating curriculum, supported with excellent resources and training.
For learners, Cambridge curriculum helps improve performance by developing skills in creative thinking, enquiry and problem solving. It is the perfect springboard to advanced study.
There are over 70 subjects available at Cambridge IGCSE, including 30 languages, and schools can offer them in any combination. Cambridge IGCSE develops learner knowledge, understanding and skills in:
Subject content
Applying knowledge and understanding to new as well as unfamiliar situations
Intellectual enquiry
Flexibility and responsiveness to change
Working and communicating in English
Influencing outcomes
Cultural awareness
Schools worldwide have been involved in the development of Cambridge IGCSE. The syllabuses are international in outlook, but retain local relevance. They have been created specifically for an international student body and avoid cultural bias.
There are over 55 subjects available at Cambridge International AS & A levels. Thousands of learners gain places at leading universities around the world with Cambridge International AS & A Levels every year. They are a passport to success.
Cambridge International A Level is typically a two-year course, and Cambridge International AS Level is typically one year.
EXAMINATION SUBJECTS OFFERED BY SCIA (IGCSE)
Biology – 0610
Business Studies – 0450
Chemistry – 0620
Chinese – Second Language – 0523
Chinese (Mandarin) – Foreign Language – 0547
Economics – 0455
English – First Language – 0500
English as a Second Language (Count-in speaking) – 0511
English as a Second Language (Speaking endorsement) – 0510
Geography – 0460
Global Perspectives – 0457
Mathematics – 0580
Mathematics (Additional) – 0606
Physics – 0625
EXAMINATION SUBJECTS OFFERED BY SCIA (International AS & A levels)
Biology – 9700
Business – 9609
Chemistry – 9701
Chinese Language (AS level only) – 8681
Chinese (A level only) – 9715
Economics – 9708
Mathematics – 9709
Physics – 9702
International English Language Testing System (IELTS)
Footnote:
[1] Information adapted from Cambridge International Examinations website. Updated as of 11 May 2017. http://www.seab.gov.sg/pages/internationalExaminations/iPSLE/general.asp
[2] Information adapted from Singapore Examinations and Assessment Board website. Updated as of 3 April 2017. http://www.seab.gov.sg/pages/internationalExaminations/iPSLE/general.asp
[3] Information adapted from Cambridge International Examinations website. Updated as of 3 April 2017. http://www.cie.org.uk/programmes-and-qualifications/cambridge-secondary-2/cambridge-igcse/