LEADERSHIP COMPETENCIES TRAINING SERIES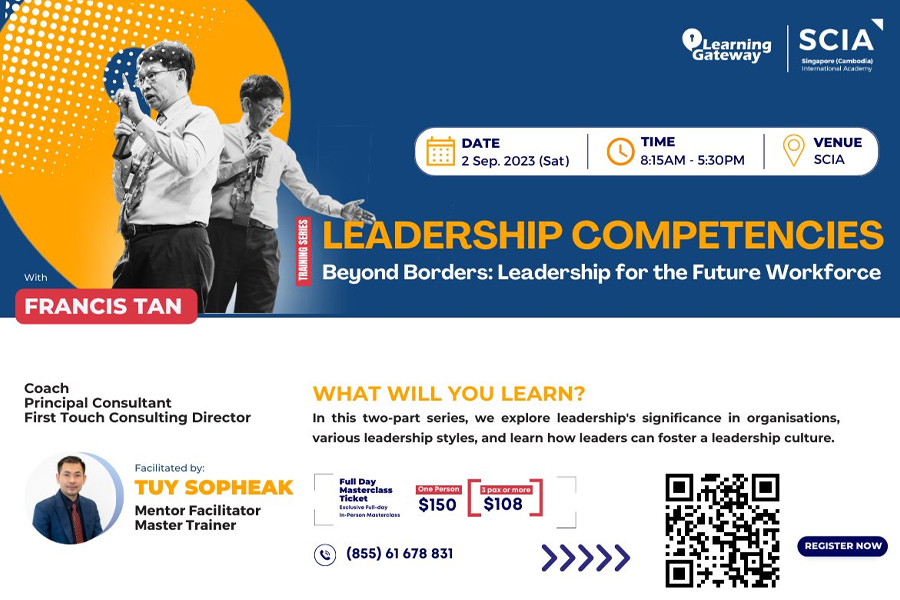 "Raising a Generation of Thriving Children"
EVENT AGENDA
ONLINE SINGING COMPETITION
This competition is open to children aged 5-18 years old from any school.
Participants may record themselves singing a song in English/Khmer/Chinese, within a duration of 3-5 minutes.
Participants need to submit the video clip of them singing in mp4 format to enquiry@scia.edu.kh with email subject: SCIA Singing Competition_Name_Age (for example: SCIA Singing Competition_Lim Sophea_8 years old)
Registration and video submission will be closed on Sunday, 28 March 2021 at 11:59pm.
SCIA reserves the rights to eliminate any video found to be inappropriate or disrespectful.
Shortlisted videos will be uploaded to SCIA's YouTube channel (https://www.youtube.com/c/SCIACambodia) for voting.
Voting period will be from Monday, 29 March 2021 at 12pm to Saturday, 3 April 2021 1pm.
Participant with the most number of "Likes" on the YouTube's video will be the winner.
Registration link: http://bit.ly/SCIASingingCompetition
FAMILY PHOTO CONTEST
Gather your family and take a photograph according to the theme: "Our Pride and Joy"!
Families may participate in this contest by:
Posting a family photo to their Facebook account
Tag SCIA's Facebook account (https://www.facebook.com/SingaporeCambodiaInternationalAcademy/),
Use hashtag: #SCIAFamilyFest2021 in the caption.
Please make sure that you set the post as "public". Otherwise, the judge will not be able to see the photo
One family can only be represented by 1 Facebook account. If there is more than one photo representing one family, the committee will choose the photo posted at the earliest time.
Photo submission will be closed on Saturday, 3 April 2021 at 2pm.
There will be 4 winners for this competition, which are:
Most Creative: Most creative photo concept that relates to the theme
Best Dressed: Most special and coordinated costumes worn by all family members
Best Caption: Caption that best describes the photo and relate it to the theme
Top Facebook Favourite: Highest number of likes on the Facebook post
Registration link: http://bit.ly/SCIAFamilyPhotoContest
CONTACT PERSON:
English : 061 968 049
Khmer (ខ្មែរ) : 061 678 828
Chinese (中文) : 061 777 817
Email : enquiry@scia.edu.kh