ICDL PROFESSIONAL CERTIFICATE PROGRAMME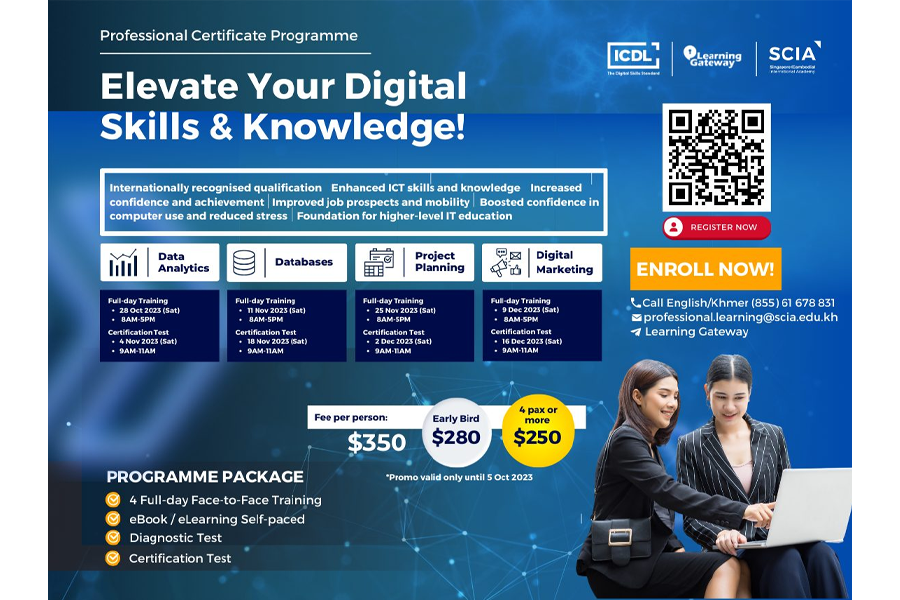 Elevate Your Future with Essential Digital Skills!🌟 In today's fast-paced digital world, having strong digital skills is not just important – it's essential for personal and professional success. Are you ready to unlock your full potential? Join us for an immersive Professional Certificate Programme brought to you by Singapore (Cambodia) International Academy – Professional Development.
🔥 Early Bird Promo: Register Now for Only $280/person! (Original Price: $350)
🔥 【👥 Group Rate (3 or more): $250/person
📅 Date: 28th October 2023 (Sat)
🕗 Time: 8:00AM – 5:00PM
📍 Location: Singapore Cambodia International Academy – SCIA Why Attend?
✅ Gain an Internationally Recognised Qualification: Equip yourself with a prestigious professional certificate that holds global recognition and opens doors to exciting career opportunities.
✅ Boost Your ICT Skills and Knowledge.
✅ Increase Confidence and Job Prospects: Achieve a sense of accomplishment as you acquire new skills, increasing your confidence in using technology effectively.
✅ Provides a platform which to move on to higher-level IT education. Don't miss this opportunity to invest in yourself and secure a brighter future. Space is limited, so register now by visiting our registration page: https://forms.office.com/r/eWzdRdyhEB
Join us on 28th October 2023 at the SCIA campus and embark on a transformative journey towards success! 🎉
📞 Call us at (855) 61 678 831 or email us at professional.learning@scia.edu.kh for more information.