TOKYO, JAPAN – STEM TOUR & CULTURAL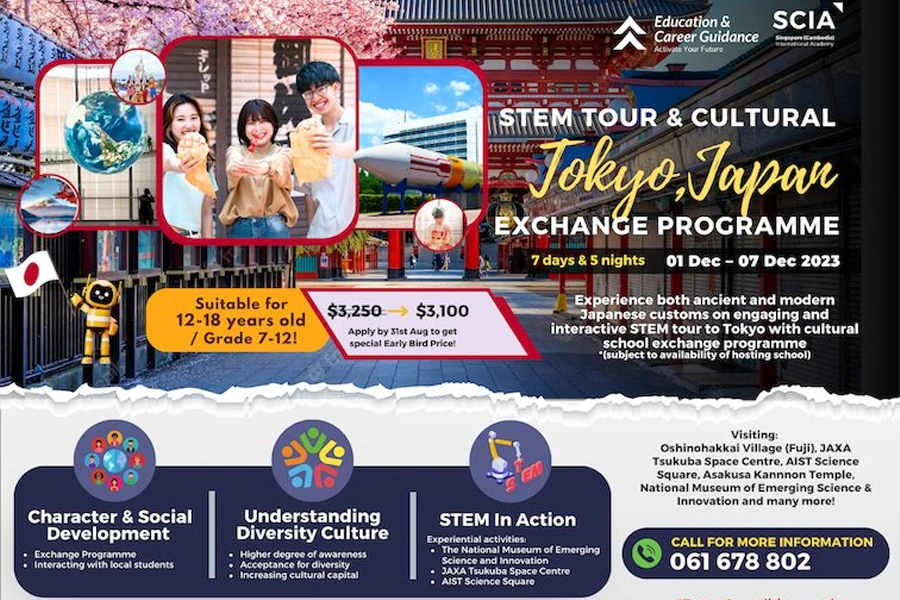 🌍🛫 Join us on a 7-day adventure to Japan, unlocking a world of growth, diversity, and STEM wonders! 🇯🇵✨
📚🌸 Expand your horizons and nurture your character through our international learning journey, designed to shape confident global citizens.
🌟 Immerse yourself in the vibrant culture of Japan while embarking on an unforgettable educational experience.
🏔️🚀 From the breathtaking beauty of Oshinohakkai Village at the foot of Mount Fuji to the cutting-edge JAXA Tsukuba Space Centre, we'll witness STEM in action and discover the limitless possibilities of science and technology. We will also explore AIST Science Square, Asakusa Kannnon Temple, National Museum of Emerging Science & Innovation and many more! This trip is suitable for 12-18 years old / Grade 7-12.
Register now for EARLY BIRD DISCOUNT!: https://forms.office.com/r/dbH1H1tfw7 or contact 061 678 802 (Telegram).