SINGAPORE SCIENCE CENTRE TRIP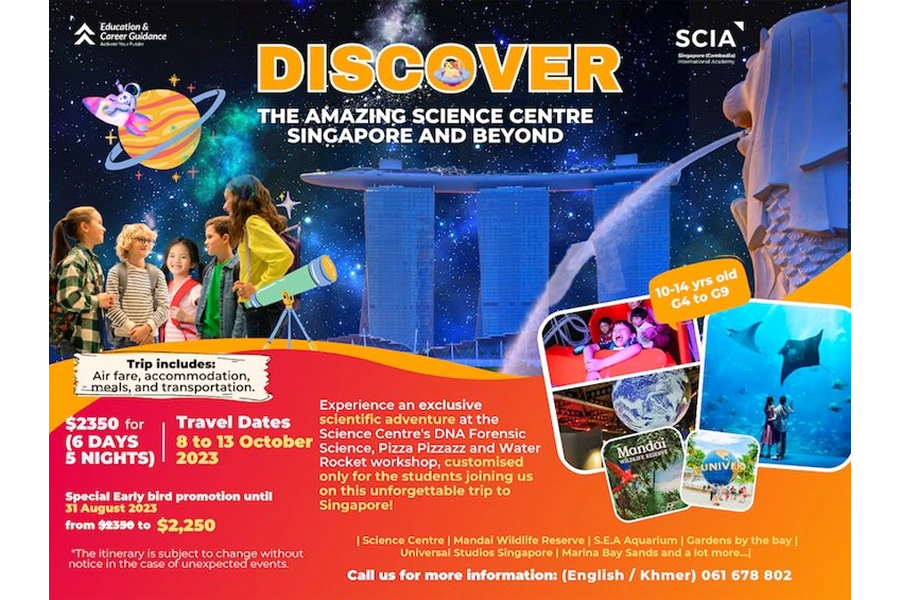 In SCIA, we believe education is about nurturing the whole student. We're excited to offer an international learning experience to broaden your horizons and push you to new heights.
Join us on a journey of discovery as we explore the unique Science Centre in Singapore and beyond. This six-day, five-night adventure includes airfare, accommodation, meals, and transportation for only $2,350. But if you act fast, you can take advantage of our early bird promotion and enjoy prices from just $2,250 until 18 August.
This trip will be a holistic learning experience that will challenge and inspire you in every way.
You'll participate in exclusive scientific workshops 👨‍🔬👩‍🔬🔬, including D.N.A. Forensic Science🧪, Pizza Pizzazz and Water Rocket workshop, all available only for the students joining us on this unforgettable trip to Singapore. You'll explore the wonders of the Science Centre 🧬🔬, the Mandai Wildlife Reserve🦒🦓🦏 , the S.E.A. Aquarium🌊 , Gardens by the Bay 🌺🌲, Universal Studios Singapore🎢, Marina Bay Sands 🚢, and so much more.
But this trip isn't just about seeing new sights and having fun. It's about developing your social and emotional skills, building your confidence, and gaining a broader perspective on the world. You'll learn to navigate unfamiliar situations, adapt to new environments, and make new friends worldwide.
This trip suits students aged 10-14 (Grade 4 – 9). This experience will challenge, excite and prepare you for future challenges.
So why wait? Secure your spot on this unforgettable journey. Let's discover the amazing Science Centre in Singapore and beyond together! Register now: https://bit.ly/SCIAScienceCentre